Delaware Courts are currently in Phase Three of the reopening plan as of June 1, 2021. Learn more about the public reopening plan.
For the latest on the Delaware Judiciary response to COVID-19 – and for contact information for each court during this emergency – please visit The Delaware Judiciary Response to Coronavirus Disease (COVID-19) page.
We will be conducting maintenance on several systems on June 10th starting at 4PM until June 14th at 12AM. This will include File and ServeDelaware, eFlex, Court Connect, and Public Access. During this time, these systems will not be available. Please plan accordingly. File and ServeXpress will remain available during this time.
Office of the Child Advocate
The Office of the Child Advocate (OCA) is a non-judicial state agency charged with safeguarding the welfare of Delaware's children. OCA was created in 1999 in response to numerous child deaths in Delaware resulting from child abuse. These cases pointed to deficiencies in the child protection system that could only be remedied through the collaborative efforts of Delaware's many child welfare agencies. The General Assembly determined that an office to oversee these efforts, staff CPAC, and provide legal representation on behalf of Delaware's dependent, neglected, and abused children was necessary. Pursuant to 29 Del. C. § 9005A, OCA is mandated to coordinate a program of legal representation for children which includes the Court Appointed Special Advocate (CASA) Program; to periodically review all relevant child welfare policies and procedures with a view toward improving the lives of children; recommend changes in procedures for investigating and overseeing the welfare of children; to assist the Office of the Investigation Coordinator in accomplishing its goals; to assist CPAC in investigating and reviewing deaths and near deaths of abused and neglected children; to develop and provide training to child welfare system professionals; and to staff CPAC.
---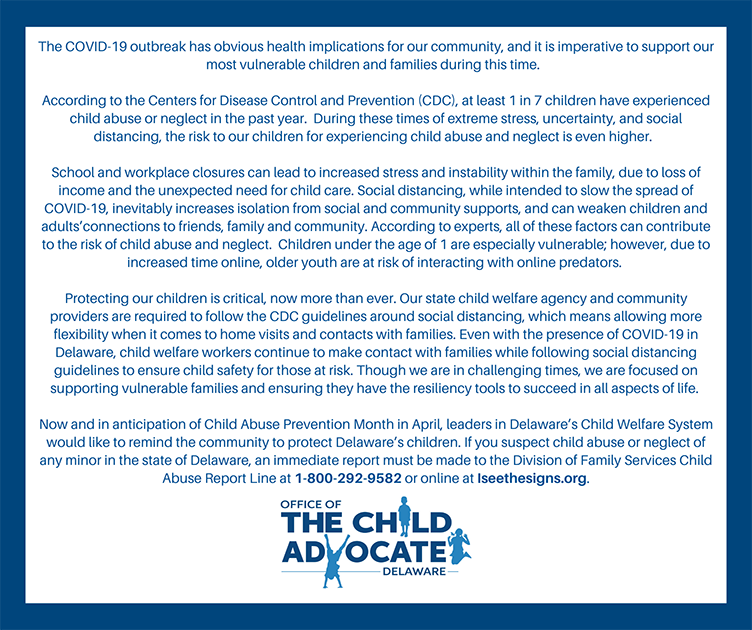 ---
---
Wilmington
900 King Street
Suite 210
Wilmington, DE 19801
Main line: (302) 255-1730
Fax: (302) 577-6831
Dover
400 Court Street
Dover, DE 19901
Fax: (302) 672-1125
Georgetown
6 West Market Street
Suite 1
Georgetown, DE 19947
Main line: (302) 856-5720
Fax: (302) 677-7027