Emergency or Expedited Relief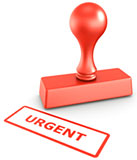 If you believe the circumstances of your case require that Family Court take action on the case earlier than if the case followed standard case scheduling procedures, Family Court Civil Rule 65.2 provides four ways in which you can request that your case be reviewed faster than it would were the normal standards followed. Please be aware, however, that these forms of relief are available only in extraordinary circumstances, and that the majority of cases must follow the normal processing and scheduling standards.
Below is a description of each of the four types of expedited relief that you may request:
Emergency Ex Parte Order
Motion for Interim (Temporary) Relief
Motion for Priority Scheduling
Temporary Visitation Order
Motion and Affidavit for Emergency Ex Parte Order
THIS FORM IS NOT TO BE USED IN PROTECTION FROM ABUSE MATTERS. TO REQUEST A PROTECTION FROM ABUSE EXPARTE ORDER, PLEASE USE FORM 654.
A Motion and Affidavit for an Emergency Ex Parte Order is usually forwarded to a Hearing Officer the same day they are filed and can be granted WITHOUT notice to the opposing party. This extreme form of emergency relief will be used only in the most extraordinary of cases. In order to request an Emergency Ex Parte Order, you must sign a Motion and Affidavit stating that immediate and irreparable harm will result if the request is not granted and explain what the immediate and irreparable harm is. You must also file an underlying petition, such as a Petition for custody, in order to file a Motion and Affidavit for Emergency Ex Parte Order. A Hearing Officer will review your Motion and Affidavit and determine whether an Emergency Ex Parte Order should be granted.
Requests for an Emergency Ex Parte Order filed after 4:00 PM may not be ruled on until the next business day. Therefore, if you will be asking for an Emercency Ex Parte Order, you should go to the Family Court early in the day.
If an Emergency Ex Parte Order is granted, a full hearing must be held within fifteen days (unless extended by the Court) to provide the opposing party the opportunity to be heard.
---
Motion for Interim (Temporary) Relief
If you wish to file for temporary relief or a temporary Court Order (i.e. you would like financial relief or temporary custody), you may file a Motion for Interim Relief. "Interim Relief" refers to a temporary Court Order that would be in place until a full hearing can be held.
- The difference between a Motion For Interim Relief and a Motion For An Emergency Ex Parte Order is that the Motion For Interim Relief will not be granted until the opposing party has been served with the Motion and given time to respond to it. This may take anywhere from several days to weeks, depending on how quickly service occurs.
- Your Motion must contain your specific request for relief and the reasons you believe this relief should be granted. The Judicial Officer who ultimately decides your Motion may make a decision on whether to grant interim relief based upon the documents filed or he or she may require a hearing.
---
Motion for Priority Scheduling
A Motion For Priority Scheduling differs from the first two Motions described in that, rather than asking for some type of temporary relief, it requests that the full hearing on the matter be held sooner than it would were the case to go through normal processing and scheduling. As with the Motion For Interim Relief, a Motion For Priority Scheduling will not be decided until the opposing party has been served and given an opportunity to file a response.
In order to obtain priority scheduling, you must submit an Affidavit indicating that substantial and irreparable harm will occur if priority scheduling is not granted.
---
Temporary Visitation Order
A Motion for Interim Visitation may be filed by a parent to request that a visitation schedule be established prior to a hearing. In order to file this Motion, you must simultaneously file a Petition for Custody or a Petition for Visitation or have filed either of these Petitions prior to filing the Motion.
-The court will hold a hearing on this type of Motion. At that hearing, you must prove the following:
- personal jurisdiction has been established over the responding party (your Petition for Custody or Visitation was successfully served): AND
- there is no existing contact schedule; AND
- you are experiencing less contact with your child(ren) than that which is routinely awarded by the Court.