History of the Supreme Court

The modern Supreme Court was established in 1951 by constitutional amendment. The State's first separate Supreme Court initially consisted of three justices and was enlarged to the current five justices in 1978.
Prior to 1951, Delaware was without a separate Supreme Court. The highest appellate authority prior to the creation of the separate Supreme Court consisted of those judges who did not participate in the original litigation in the lower courts. These judges would hear the appeal en Banc (collectively) and would exercise final jurisdiction in all matters in both law and equity.
Please refer to the following documents chronicling the history of the Court:
For biographical information pertaining to current Justices of the Delaware Supreme Court, please refer to the Judicial Officers page.
Delaware Supreme Court Golden Anniversary Book
(1951-2001)
---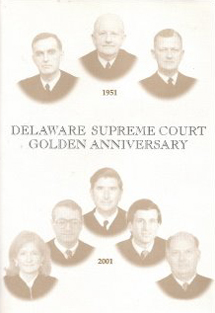 To commemorate the Court's Golden Anniversary, Justice Randy J. Holland and Helen L. Winslow, Esquire, as editors, released a history of the separate Supreme Court entitled "Delaware Supreme Court Golden Anniversary 1951-2001." The book features a preface by Chief Justice E. Norman Veasey and a history of the Delaware courts by Justice Maurice A. Hartnett III. The book contains biographies of each justice who has served on the separate Supreme Court as well as twenty-four chapters by thirty authors on topics that include criminal law, corporate law, family law and individual rights.
Copies of the book can be purchased by the public for $25 each by contacting:
Bill Montgomery
Supreme Court Administrator
Supreme Court of Delaware
820 North French Street, 11th Floor
Wilmington, DE 19801